Conversations with our Physicians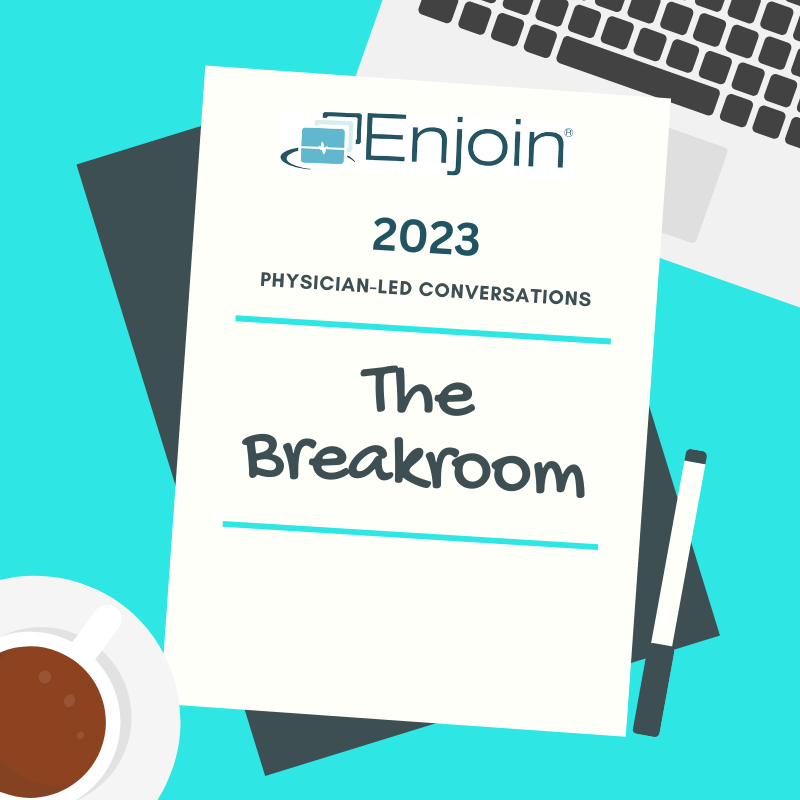 Welcome to The Breakroom!
The Breakroom was created at the onset of the COVID-19 crisis to offer our physician-led clinical and coding expertise to HIM, Coders, and CDI professionals. Our goal was to help fill the gap created by the shift in physician efforts to the direct care of patients which resulted in limited physician advisory support.  We continue this commitment to support the Revenue Cycle and HIM/CDI communities.
Our primary mission is to provide up-to-date clinical information in support of documentation and coding challenges and other pertinent topics.
We invite you to join this collaborative dialogue with our physicians and guest speakers.
2023 Upcoming Sessions
To register, click on the title. All sessions are Eastern Time unless otherwise noted.
| | | | |
| --- | --- | --- | --- |
| TOPIC | PRESENTERS | DATE | TIME |
| TBD | TBD | Oct 20 | 11 am |
Previous 2023 Sessions
To request previous Breakroom recordings, click the Download button below.
Recordings are available for download up to 60 days after session date.
| | | |
| --- | --- | --- |
| TOPIC | PRESENTERS | DATE |
| The Good, the Bad, and the Ugly: ECU Health's OIG Journey | Dr. Huff with Dr. Matacale and Ashley Strickland, ECU Health | Jun 23 |
| The STARS and Medicare Advantage Update | Dr. Freilich/Rebecca Bradley | Mar 31 |
2022 Sessions
| | | |
| --- | --- | --- |
| TOPIC | PRESENTERS | DATE |
| Extrapolation: The Sword of Damocles Hanging over MAOs: Lessons Learned – Part 2 | Dr. Freilich/Brandi Grey | Dec 9 |
| Special Edition: Dissecting the Query Practice Brief | Dr. Martin with guests Tammy Combs, AHIMA & Laurie Prescott, ACDIS | Nov 18 |
| Resuscitating the Diagnosis of Respiratory Failure | Dr. Stein/Andrea Mathias | Aug 19 |
| Medicare Turns 58 and the Rise of MAO's | Dr. Golden/Melissa Rodriguez | May 20 |
| Coding Clinic Controversies and More | Dr. Haik/Anna Kuehnl | Mar 11 |
2021 Sessions
| | | |
| --- | --- | --- |
| TOPIC | PRESENTERS | DATE |
| COVID 2 Years: Looking Back & Looking Forward | Dr. Golden/Katy Good | Dec 10 |
| MA Payor Challenges-Lessons Learned from Litigation | Dr. Fee/Melissa Rodriguez and Guest Speaker | Oct 8 |
| The Covid-19 Pandemic: Impact on CMS Quality Measures | Dr. Golden/Katy Good | Aug 20 |
| Extrapolation: The Sword of Damocles Hanging over MAOs–Lessons Learned | Dr. Freilich/Dr. Senor | Jun 18 |
| COVID-19 UNMASKED: Year in Review | Dr. Golden/Katy Good | Apr 16 |
| Defending Malnutrition: Will Your Documentation Stand Up to an OIG Audit? | Dr. Martin/ Dr. Matacale, Vidant Health | Feb 19 |
2020 Sessions
TOPIC
PRESENTERS
DATE
CDI and Quality Alignment: Strategies for Success
Dr. Golden/
Leif Laframboise, YNHH
Dec 11
CDI in the Doctor's Lounge
Dr. Fee/Dr. Martin/
Dr. Golden
Nov 13
Hypercoagulable States: Breaking Down the Documentation and Coding
Dr. Golden/Connie Ryan
Oct 16
2021 E/M Changes – Will You Be Ready?
Dr. Freilich/
Schuyler Connell
Sep 11
COVID-19 Impact on ACOs – What We Know So Far
Dr. Senor/Jennifer Eaton
Aug 14
Renewed Value: Discussing CDI with Brian Murphy and Tammy Combs
Dr. Fee w/guests
Brian Murphy, ACDIS & Tammy Combs, AHIMA
Jul 31
What's New with CMS-HCCs?
Dr. Freilich/
Schuyler Connell
Jul 17
FY 2021 IPPS Proposed Rule: Sorting through 1600 Pages So You Don't Have To 
Dr. Martin/Dr. Golden
Jun 19
Denials-Will Anything Change Post COVID-19?
Part 2: Status Determination
Dr. Arwood/Jim Gaffney
Jun 5
Denials-Will Anything Change Post COVID-19?
Part 1: DRG Focus
Dr. Arwood/Andrea Taylor
May 22
COVID-19 Sepsis Considerations
Dr. Freilich/Katy Good
May 8
Respiratory Failure and ARDS: Clinical Coding Guidelines
Dr. Senor/Katy Good
Apr 24
COVID-19 Coding Guidance Q & A
Dr. Golden/Katy Good
Apr 9
Current COVID-19 Coding Guidance
Dr. Golden/Katy Good
Mar 27