Conversations with our Physicians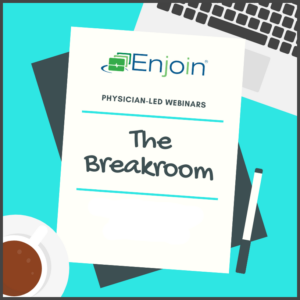 The COVID-19 crisis has caused a shift of physician efforts to the direct care of patients which may leave CDI professionals with limited physician support. Enjoin would like to offer our clinical and coding expertise to CDI professionals to help fill that gap.
The series will cover up-to-date clinical information, supporting documentation as well as current coding rules and guidelines for a variety of relevant clinical topics.
We invite you to join this collaborative dialogue with our physicians.
* Upcoming Sessions *
| | | | |
| --- | --- | --- | --- |
| Friday | May 22 | 11 am ET | Denials-Will Anything Change Post COVID-19? Part 1: DRG Focus |
| Friday | Jun 5 | 1 pm ET | Denials-Will Anything Change Post COVID-19? Part 2: Status (Inpatient vs. Outpatient Observation) |
| Friday | Jun 19 | 11 am ET | IPPS |
| Friday | Jul 10 | 11 am ET | HCC updates |
| Friday | Jul 24 | 11 am ET | Population Health |
Friday, May 22 | 11 am ET Denials-Will Anything Change Post COVID-19? Part 1: DRG Focus
Friday, Jun 5 | 1 pm ET Denials-Will Anything Change Post COVID-19? Part 2: Status (Inpatient vs. Outpatient Observation)
Friday, Jun 19 | 11 am ET IPPS
Friday, Jul 10 | 11 am ET HCC Updates
Friday, Jul 24 | 11 am ET Population Health
5/22/20 - 11 am ET
Denials-Will Anything Change Post COVID-19? Part 1: DRG Focus
6/5/20 - 1 pm ET
Denials: Will Anything Change Post COVID-19? Part 2: Status (Inpatient vs. Outpatient Observation)
Previous Breakroom recordings and documents: