CMS's March for Innovation Continues; Let CDI be your Ally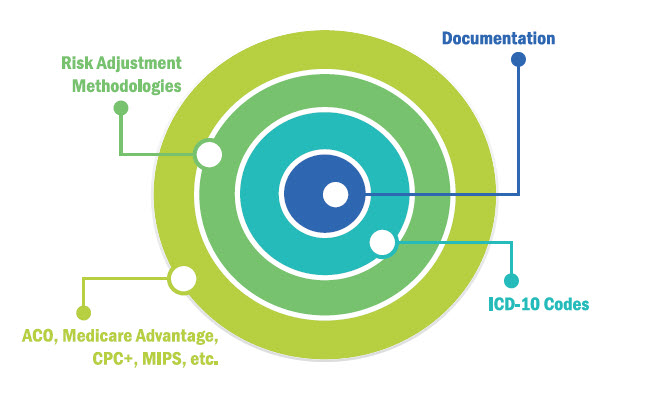 There's no denying it: changes brought on by COVID-19 have created a "new normal." However, there are some things that have not changed: morning sunrises, the earth's gravitational pull, and the never-ending push by CMS to wipe out fee-for-service. Okay, maybe that was a bit melodramatic, but it doesn't change the fact that even in the face of a global pandemic, CMMI is pressing forward with new models. In 2021 CMS is rolling out two new models, Direct Contracting and Primary Care First, that are aimed at transforming primary care. If your organization is venturing out into either one of these new models (or continuing with Next Gen or MSSP), a Clinical Documentation Integrity (CDI) program can go a long way to helping you meet the benchmarks. Here at Enjoin, we've put together a few things to help you get started. 
It Starts with Data 
Whether we're talking about an ACO, Direct Contracting Entity or Primary Care First participant, one thing is clear: to effectively target CDI efforts for optimal ROI, understanding the data is essential. This is, however, easier said than done, particularly for organizations that have an IT department that is already stretched thin and budgetary constraints that don't allow for acquisition of the tools and personnel required to ingest and analyze Claim and Claim Line Feed (CCLF) files. If your entity does have the professional and financial resources to take on its own analytics, then it is certainly worth the investment. Otherwise, you can either wait for final reconciliation and hope for the best, or a (significantly) better option is to collaborate with a management partner that already has the infrastructure and specialized analytics team to do the work for you. Know that if you do choose the latter option, it's an investment in the future success of your Population Health CDI program that will assist you with focusing patient record review and provider education efforts on the areas with the greatest potential impact. 
Know the Current State 
While data analysis is immensely valuable, ask any clinical documentation specialist, and they'll tell you that there is simply no substitute for actually laying eyes on the chart. An in-depth review of every encounter for the selected cohort of patients will enable you to (1) validate the current clinical documentation and coding practices of your providers and (2) determine which diagnoses and/or providers demonstrate the greatest areas of opportunity.  The caveat here is that the record review is only as good as the reviewer's depth of knowledge (and thoroughness). Reviewers should be well-versed in CMS-HCC methodology and coding compliance in addition to possessing the skillset to clinically validate already documented diagnoses and recognize the clinical indicators for diagnoses not yet documented. Why so much emphasis on an initial retrospective review? The information gleaned from the review, married with your initial data analytics is going to allow you to focus provider education on the clinical topics that will garner the greatest return on your investment. 
Educate Your Providers 
If your physicians and advanced practice professionals (APPs) have little to no knowledge of risk adjustment methodologies, the first step is to establish a general awareness of not only the financial implications of the risk adjustment model, but the impact that documentation and coding integrity have on the individual providers and their patients. For maximum effectiveness, consider having a peer deliver the education. Ideally, this would be a physician who knows risk adjustment, is experienced with clinical documentation and coding integrity, and he or she is familiar with the aches and pains of navigating an EHR. Once the "level-setting" is complete, the natural progression is to begin focusing education efforts on the providers and condition categories that were identified in the data analysis and chart review processes. Again, peer-to-peer education has been shown to have the greatest potential to effect change in physician performance.  
Whether your organization will be starting out in Direct Contracting or Primary Care First in 2021, or you are currently part of an ACO or participating in another risk-sharing arrangement, a robust CDI program can not only mitigate negative financial impact but go even further by enhancing revenue through accurate documentation and coding. While the recommendations in this article are by no means a comprehensive solution, it can give you a place to start.